Thursday, October 20th, 8 AM to 10 AM @ the Innovation Connector
1208 W. White River Blvd., Muncie
Have you noticed the videos of your friends going Live in your Facebook feed?  Maybe you've even tapped on the Live icon yourself then freaked out a little because you realized you weren't quite sure what to do next.
Or maybe you've done a few Facebook Live videos and thought, I think I did OK, but I'm still not sure what it's all about.
When Facebook Live was first available to the masses, Derek jumped in headfirst.  He was determined to figure it out and wasn't afraid to fail.
"Oh boy, did I fail," he says.  "But I learned something new each time I made a mistake."
Come to this presentation to learn how you can keep from making the same mistakes Derek made and harness the power of Facebook Live to reach your audience.
About Derek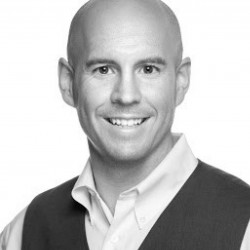 Born and raised in Muncie, Indiana, Derek McClain is a Ball State University Telecommunications alumnus.  During his 10+ years in the digital marketing arena, Derek has gained first-hand experience with a variety of digital media strategies and executions.  For the last 6 years he has served as the Digital Marketing Manager for Driver Solutions where he has been instrumental in solidifying the company's online presence as the leader in truck driver training and career placement for new drivers.
In addition to his passion for using social media as a valued and vital connection with others, McClain is a proud father and husband.  And, anyone who knows him would agree he could also be called an exercise enthusiast.   When not on the job or spending time with his wife and son, he can be found squeezing in a workout.
Connect with him on Facebook by going to Facebook.com/derekmcclain or follow him on Instagram and Twitter as @derekmcclain.
Mailing Address: 3603 E. Raymond St. – Indianapolis, IN 46203
Email: dmcclain@driversolutions.com or derek.mcclain@gmail.com
Phone: 317-616-1306 (ext. 2150) or 765-215-6516 (cell)
Agenda
8am-8:30am FREE Breakfast and open networking
8:30am-8:45am Introductions and the Breakfast Sponsor Presentation
8:45am-9:30am Main Presentation
9:30am-9:35am Break
9:35am-10am Open Forum for Q&A
Sponsor
Special thanks to our breakfast sponsor, Ball State's Office of Community Engagement. TAs an anchor institution in our region and state, Ball State University is committed to establishing and nurturing collaboration between faculty, students, and community partners to address the most pressing needs of Muncie, Delaware County, and communities across Indiana.