Thursday, July 21st, 8 AM to 10 AM@ the Innovation Connector
1208 W. White River Blvd., Muncie
Snapchat is a social media platform that has been rising in popularity, especially among the younger generations. It's been brought up in many of our ECI Social Media forums and presentations which is why we're so excited to welcome Brett Gauger from Cyclone Social for our July presentation.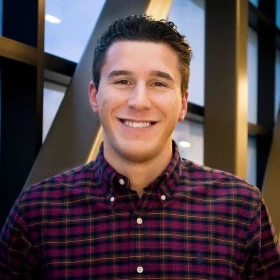 "To say the least, it's a social tool that I thoroughly have passion for and always enjoy sharing cool stuff about it." – Brett Gauger
Come prepared to learn because Brett has a jam-packed presentation planned with all the details pertaining to the purpose of Snapchat, how it can be used for community building, the application's capabilities, and whatever else he can squeeze into our brains.
Brett Gauger is the social media accounts manager at Cyclone Social. As a manager, he helps maintain a close relationship with clients, integrates visual and textual content strategies, monitors live interactions, tracks key performance indicators, and expands social presence.
While Brett is not in the office or tweeting, he enjoys spending time with his family and friends, listening to all genres of music, eating Arbys, and being a human encyclopedia. He has a deep love for the Detroit Red Wings, Detroit Tigers, and his Mom's homemade cooking.
Email: Brett@CycloneSocial.com
Twitter: @GAUG_zilla
Agenda
8am-8:30am FREE Breakfast and open networking
8:30am-8:45am Introductions and the Breakfast Sponsor Presentation
8:45am-9:30am Main Presentation
9:30am-9:35am Break
9:35am-10am Open Forum for Q&A
Sponsor
Special thanks to our breakfast sponsor, Addison Avenue Marketing. In addition to DIY Marketing workshops, Addison Avenue offers marketing services specializing in social media, strategy and project management for small business.